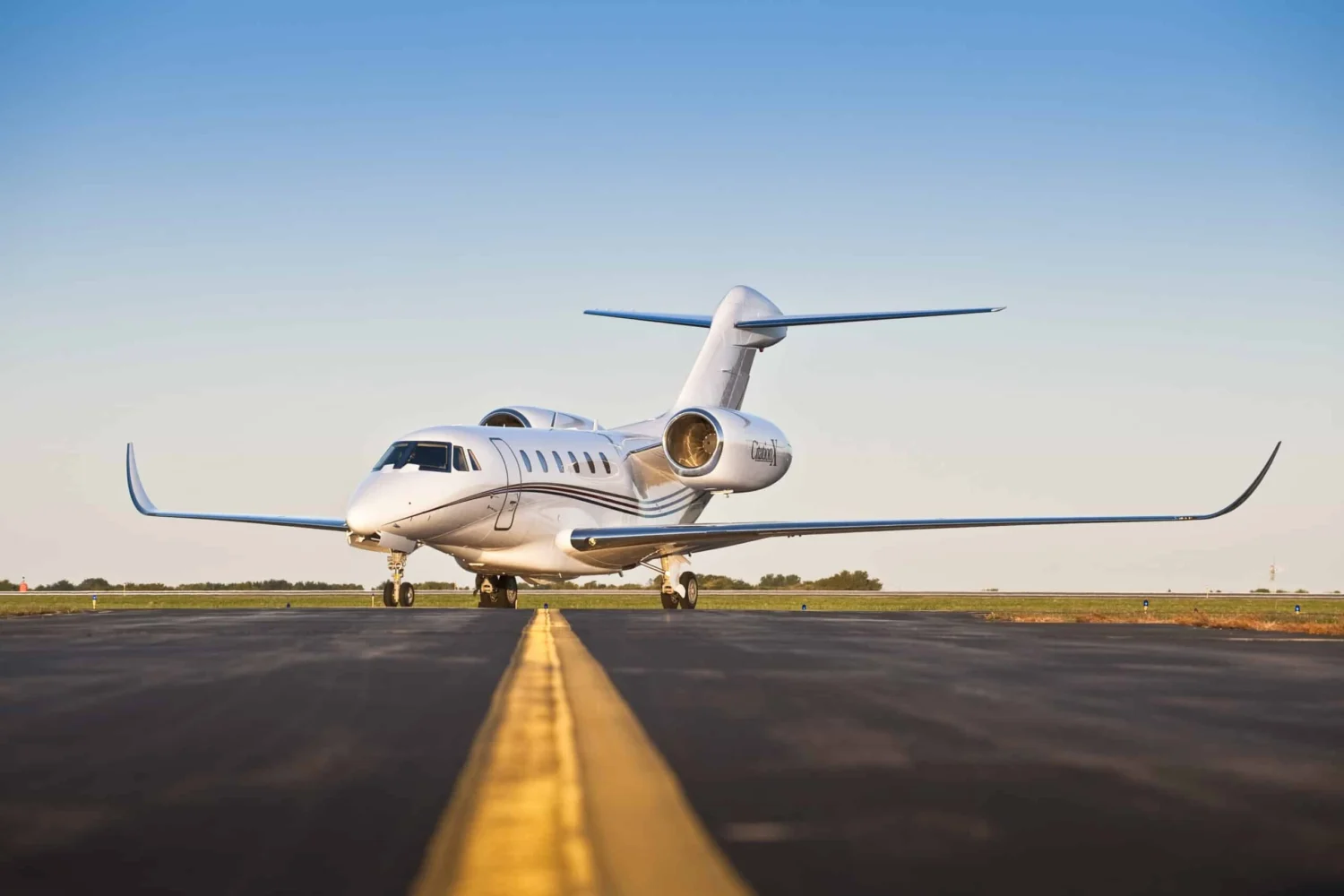 Transcontinental Comfort in a Midsize Jet
The Cessna Citation X, first available in 1996, is a super mid-size business jet, capable of carrying up to 12 passengers with a transcontinental range.
Cessna announced the development of the Citation X in 1990. The aircraft was designed to be more competitive in the business jet market than earlier Citations, with greater speed, range, and comfort.
It would take six years to bring the Cessna X to market, in part due to integration challenges of the avionics and engines that prevented initial FAA certification.
The aircraft is powered by two Rolls Royce AE 3007C engines and reaches a top speed of Mach 0.92 or 661 nautical miles per hour.
Certified in 1996, the first Citation X was purchased by famed golf pro, Arnold Palmer in July 1996. Citation X soon proved its worth, setting several speed records. Additionally, the Cessna's design team was awarded Robert J. Collier Trophy for design and performance.
Cessna Citation X Interior
Although capable of carrying up to 12 passengers, most Citation X aircraft are outfitted as business jets with seating for six to eight passengers.
Pairs of facing seats include fold-out tables for work or dining. Cessna provides factory interior options that also include window shades, beverage service, microwaves, entertainment systems, and refrigerators.
The cabin interior, while not providing full-stand-up height (5 ft. 7 in.), is roomy and comfortable There is an enclosed lavatory at the rear of the cabin. For baggage, there is an 82. cubic foot external compartment, with space in the cabin for additional baggage.
Cessna Citation X Interior Dimensions
| | |
| --- | --- |
| Max. Passengers | 8 |
| Cabin Height | 5'7 inches |
| Cabin Width | 5'5 inches |
| Cabin Length | 23'9 inches |
| Cabin Volume | 538 cubic feet |
Cessna Citation X Baggage Capacity
| | |
| --- | --- |
| Total Weight | 770 pounds |
| Total Size | 82 cubic feet |
Whether you're heading to meet new clients or your next vacation, the Cessna Citation X is one of the many planes we offer, and is a dependable option if you're seeking economic efficiency without compromising comfort and convenience.
Interested in booking your next trip in the Cessna Citation X? Contact us to learn more.