---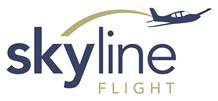 Linear Air is delighted to welcome Skyline Flight as our newest network operator. Headquartered in central Massachusetts, Skyline Flight has been providing regional air taxi service on the East Coast for nearly ten years. Their focus is making travel simple, fast, and convenient for their family of customers.
Linear Air CEO Bill Herp notes, "We've been working with Skyline for a while now on a trip-by-trip basis, and have been very pleased with the high level of service they have provided to Linear Air customers. We are glad they've chosen to join our network of Linear Connect operator partners."
Ken Brown, Skyline Flight's CEO, said, "The decision to become a Linear Connect partner was not one we took lightly, but after over a year of working closely with the Linear team, we have seen first-hand the value they have brought to our business. We are looking forward to growing the air taxi market together!"
To find more information on Skyline Flight and our other air taxi partners please check out our partners page.