Executive and Leisure Travelers Able to Maximize Summer Weekend Getaways with Air Taxi Service
Linear Air, in conjunction with partner Hopscotch Air, will begin scheduled per-seat air taxi service to Cape Cod, Nantucket and Martha's Vineyard -- from Hanscom Field in Bedford, Mass. and Westchester County Airport in White Plains, NY. Service begins May 15.
Click here to access full press release.
Linear Air announced today that it will begin scheduled per-seat service, in conjunction with its partner Hopscotch Air, to some of New England's most popular and hard-to-get-to summer destinations: Cape Cod, Nantucket Island, and Martha's Vineyard. Linear Air flights will depart from Hanscom Field, just outside Boston in Bedford, Mass. Hopscotch Air will serve these destinations from the Westchester County Airport in White Plains, NY. Service will begin on May 15, 2014. For schedules, pricing, and to make reservations, please visit fly.linearair.com/routes.
"Our customers are busy executives living near Boston and Manhattan. They have demanding work and travel schedules that rely on air taxi," said Bill Herp, Linear Air CEO. "When the time comes for vacation, air taxi lets them maximize their leisure time by offering flights from convenient local airports to sought-after destinations. After a hectic week in the office, no one looks forward to the long drive or race for the ferry standing between them and their vacation. We've devised our new Cape and Islands schedule to save travelers time and maximize their weekend getaways."
Linear Air will provide the only scheduled service from the Boston area into Cape Cod's Chatham Airport, a centrally located and popular Cape destination, departing Friday evenings from Hanscom Field and returning Sunday afternoons. Direct flights to Provincetown will depart from White Plains Thursday evenings with a return flight Sunday afternoons.
Traveling to the islands of Nantucket and Martha's Vineyard can be time-consuming, inconvenient, and crowded using traditional means. Linear Air's service turns a five- to seven-hour drive into a one-hour flight. Linear Air's scheduled service uses smaller, less congested airports in order to avoid the traffic and hassles of commercial airline hubs. Hopscotch Air CEO Andrew Schmertz notes, "We offer hassle-free travel from White Plains, which is minutes away from some of the biggest businesses in both Westchester and Connecticut and an easy car or train ride away from Manhattan. Plus, no long airport lines, no delays, no TSA scanning/grabbing, and no crowded airline terminals."
Service to Nantucket leaves Bedford on Thursday evenings, and leaves White Plains every Friday afternoon. Both routes have return flights on Monday morning at 9:00 am in order to maximize weekend time on the Island. Service to Martha's Vineyard departs both bases at 4:15 p.m. on Friday with return flights on Sunday at 5:15 p.m.
Reservations are available direct through Linear Air at fly.linearair.com/routes, as well as Linear Air's travel search partner http://www.kayak.com/.
All air taxi flights are flown on Cirrus aircraft, among the safest, most technologically advanced, and cost-effective general aviation aircraft in the industry.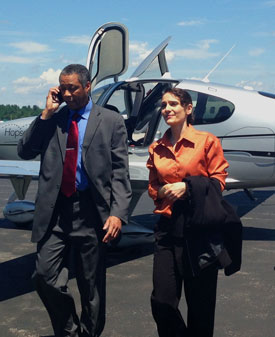 About Linear Air
Based in Bedford, Mass., Linear Air is a pioneering innovator of air taxi services, connecting the traveling public with select operators of air taxi aircraft via our proprietary software platform. Linear Air offers business and leisure travelers access to more than 5,000 airports in North America that are conveniently located just minutes from anywhere, using the most advanced and comfortable air taxi aircraft available. With a 10-year history of leadership in the air taxi travel segment, Linear Air is proving that air taxi can provide the benefits of traditional jet charter, but without the extravagant prices. For more information, please visit http://www.linearair.com/, call 1-877-2-LINEAR, or email info@linearair.com.
About Hopscotch Air, Inc.
Hopscotch Air, a transformative FAA-certified air taxi service, delivers private aviation at affordable prices. Hopscotch Air offers its air taxi service through efficient, technologically advanced Cirrus SR 22 aircraft. Designed to provide an alternative to regional airline service and driving, Hopscotch Air currently serves hundreds of lightly used airports throughout the northeast and Canada from its base airports in Long Island, Westchester, Boston, and Stowe. For more information, please visit http://www.flyhopscotch.com or call 1-877-255-2HOP.