As part of our ongoing goal to make every air taxi flight as enjoyable as possible, Linear Air is pleased to introduce the QiPillow. Based on the most current work in human spinal biomechanics research, this product acts as both an attractive throw pillow and a novel orthopedic device, and now you can find them on Linear Air flights in both the Eclipse air taxi jet and Cirrus air taxi.
One in Three Have Back Pain Each Year
Think of three people you know, three people you care about. Surprisingly, statistics tell us that at one of them has experienced or will experience back pain this year. According to research done by the American Academy of Orthopedic Surgeons, lower back pain troubles 30% of American adults, each year. Linear Air has partnered with researcher, author, lecturer and inventor Patrick Lee to address this issue for our passengers.
Lee is an invited lecturer at universities and other organizations across the globe. He has spoken to post-grad doctors in Germany, The Netherlands, and other European locales. His work has helped a wide variety of people, including athletes and celebrities.
Lee initially created the QiPillow after vowing to find a solution for his own chronic back pain, so his efforts count among the $200 billion a year Americans spend trying to fix their back pain problems. After receiving postgraduate degrees in The Netherlands and Germany, Lee used his studies to craft an orthopedic device that is affordable, attractive and functional. Our first passenger to try it wrote in an email to us, "Thank you!! Loved the pillow. Big help - it worked well. Save it for me."
A Solution for Proper Support
The Workers Safety and Insurance Board states that simply sitting without the proper support is the leading cause of the American back pain epidemic. Human bodies weren't designed for more than 20 minutes of sitting at a time, and the era of modern technology in which we live makes sitting an all-too constant activity. After 20 minutes, muscles in our lower backs will begin to tense, which marks the start of the typical lower back pain problem.
The QiPillow utilizes the same kind of technology used in the Sleep Number Bed System to make these problems a thing of the past for Linear Air travelers. An orthopedic, air-controlled core can be inflated or deflated, with no special tools or knowledge of the pillow, until its user finds their perfect amount of applied back pressure. The QiPillow's core provides dynamic tension and will reduce or eliminate back pain and fatigue that normally occurs because of prolonged sitting.
Because Lee's impressive product delivers dynamic tension and not static pressure, your back muscles will be more relaxed and you'll stay more comfortable during every flight. The QiPillow won't collapse under the weight of your body, and the added, necessary support will also improve your posture.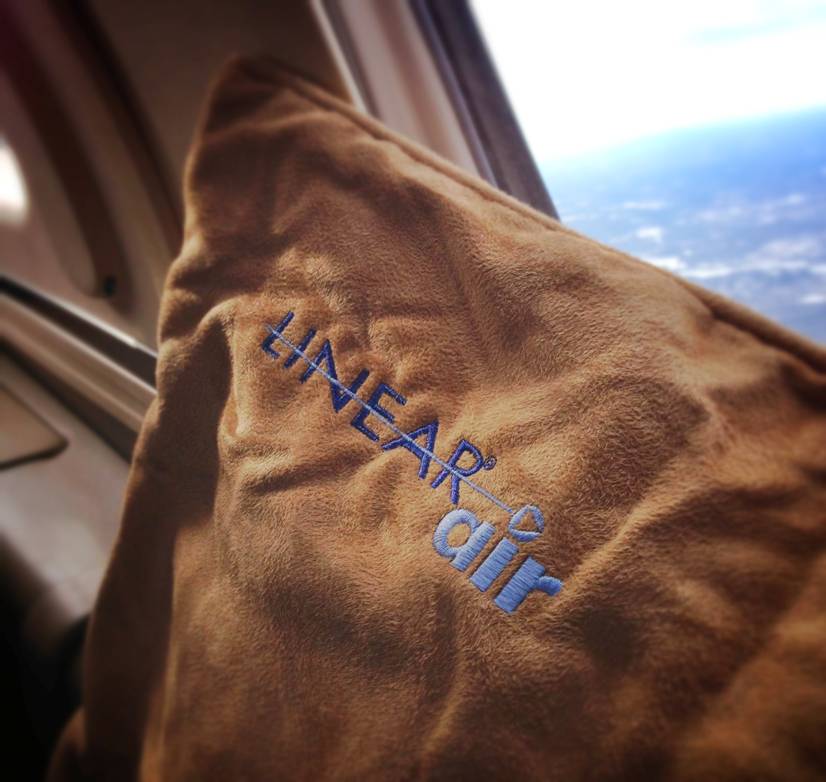 In clinical research studies performed on the QiPillow, a staggering 95.65% of testers strongly agreed that the pillow helped support their back, didn't lose that support while in use, and didn't collapse under their weight like conventional pillows, even after seven days of use. 91.3% of those same testers strongly agreed that the QiPillow helped improve their sitting posture and comfort, while helping them relieve back pain, stiffness or fatigue during sitting.
Making the Best Even Better
At Linear Air, we want you to experience the best that air travel has to offer at a reasonable price. We're excited to incorporate the QiPillow in future flights, and we're proud of our continued efforts to bring you the very best in luxury and comfort that modern technology can provide.