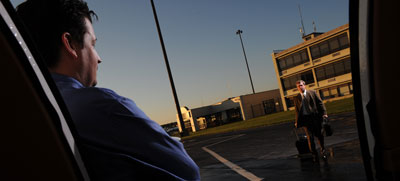 Never underestimate the creativity of the American consumer. In our case, that's the American traveler. We launched Linear Air for those who wanted to avoid the hassles, intrusions, and hours of wasted time associated with flying on scheduled airline service through big hub airports. But quite often, our customers teach us new ways that our air taxi service can help solve their travel challenges.
I've had the chance recently to speak with two different customers searching for a better option for their weekend commutes. Their situations happened to share a lot in common. Both work just outside Boston in the western suburbs, and anticipated regular travel from the office on Thursday or Friday, and then back again on Sunday or Monday. However, their options for getting from point A to point B were extremely limited.
Traveling from Greater Boston to Nantucket, MA
First, let me tell you about Julie, a CEO who needs to commute to and from her summer home on Nantucket. Like many candidates for air taxi, she was interested in avoiding the hassles and delays of the other options for her weekend commute.
Her office in Burlington, MA, is a fair drive from Boston's Logan Airport, but is about five minutes north of our aircraft base at Hanscom Field in Bedford, MA. Hanscom is also conveniently located a few minutes from her home in Concord, allowing for quick drive from home or work.
Rejected option 1: High-speed ferry from Hyannis to Nantucket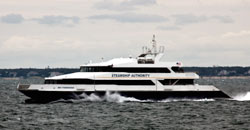 The high-speed ferry to Nantucket takes about 90 minutes, but driving to its port in Hyannis prior to departure can take hours in traffic.
To get to her summer home on Nantucket, Julie could pay a nominal fare for a 60-minute high-speed ferry ride. However, the ferry departs only from Hyannis, which is a 90-mile drive from her office. This is an unpleasant two to three hour car ride in typical traffic, and even longer on holiday weekends or during rush hour.
Plus, similar to scheduled airline fliers, ferry travelers are smart to show up early, as missing your desired ferry means waiting around for the next departing boat. Add it all up, and commuting to Nantucket by car & ferry takes at least five hours, if not more.
Rejected option 2: Airline flight from Logan Airport (BOS) to Nantucket Memorial Airport (ACK)
Airline during rush hour
Drive Burlington-Logan (90min)
Park, check-in, clear security (90min)
Board airplane (30min)
Land at Nantucket (45min)
Total travel time: 4hrs 15min+
Another alternative Julie considered is to purchase tickets for scheduled flights out of Boston/Logan. Though it's not as bad as the drive to Hyannis, the trek from Burlington to downtown Logan Airport becomes a 90-minute slog with the rush hour traffic that starts early on Friday afternoons. Factor in time for parking, TSA checkpoints and boarding – the half-hour airline flight could end up costing her four hours of travel time – and that's only if she's lucky enough to catch an airline flight that departs on-time!
Selected option: Direct air taxi from Hanscom Field (BED) to Nantucket Memorial Airport (ACK)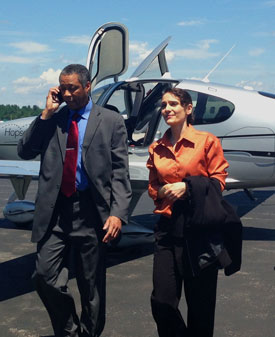 Julie ended up choosing our air taxi flights to and from the island to save time and avoid hassle. Since Bedford is just a few minutes from both her home and work, even in traffic, departing from Hanscom Field is a breeze. She likes the freedom to plan flights whenever they best fit into her busy schedule, and air taxi flights make the time traveling actually enjoyable for her.
She told me how she loves that, when arriving at Hanscom Field for her departure flights, there's no parking garages or intrusive security to worry about. She had a hard time believing the first time that it was as easy as simply driving to the executive terminal, handing the valet her car keys, greeting her pilot and getting on board her personal Cirrus SR-22.
Traveling from Greater Boston to Cape May, NJ
Saving personal time was even more important for another one of our new customers, Paul. He recently accepted an offer to become CEO of a company based in Waltham, MA -- another of the western suburbs of Boston. But as a resident of Cape May, NJ, Paul did not want to have to relocate his family just to accept this job. He also didn't want the new role to keep him from personal time with his wife and two daughters. Cape May is located on a far southern cape of New Jersey, nearly 60 miles south of Atlantic City, and more than 90 miles south of Philadelphia. Similar to Nantucket, it is not easy an easy weekend commute to Cape May from Massachusetts via traditional travel modes.
Rejected option 1: Drive directly from Waltham to Cape May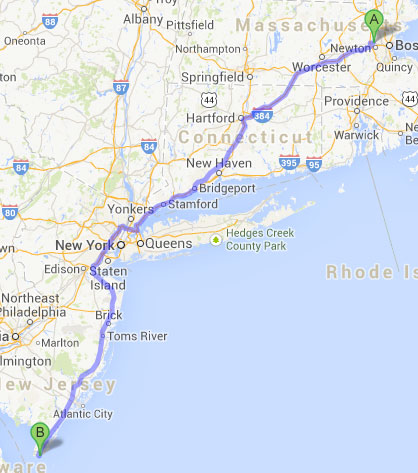 Driving from Waltham to Cape May can take up to 9 hours (or more) in traffic
Paul told me he figures that the typical drive from Waltham to Cape May is just under six hours, without factoring in additional time for traffic. Considering that Paul was looking to commute during peak times, metropolitan traffic around New York City and Boston would have likely added two to three hours to the drive, if not more.
Facing a drive that could potentially span over nine hours, this wasn't a preferred option for Paul. Choosing this option for a commute means that he would be driving for nearly as much time as he typically spends in a day at the office. Not to mention that he'd be racking up a ton of milage on his new car.
Rejected option 2: Fly commercially from Boston to Philadelphia and take a car to Cape May
Airline during rush hour
Drive Waltham-Logan (75min)
Park, check-in, clear security (90min)
Board airplane (30min)
Land at Philadelphia (90min)
De-board and enter car (30min)
Drive to Cape May (120min)
Total travel time: 7hrs 15min+
There are a few non-stop flight options from Logan Airport to Philadelphia, but the on-time percentages for these routes run well below the national average. The in-air flight time on an airliner is about 90 minutes to PHL. Factoring a drive from Waltham to Logan, parking, clearing security and checking-in on the mandated schedule, Paul figured he'd need to leave work about two hours before his scheduled flight.
He would also need to book or rent a car to drive from Philadelphia to Cape May upon arrival (that's two more hours). Assuming the scheduled commercial flight is on-time, an always questionable assumption, Paul is facing the expense of parking, car rental or chauffeur, and commercial tickets at a total door to door time of about 7hrs 15min – not much shorter than just driving!
Selected option: Direct air taxi flight from Hanscom Field (BED) to Cape May (WWD)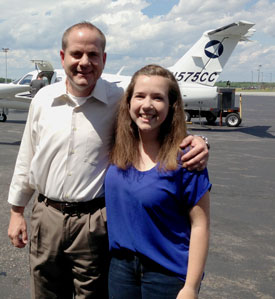 Paul told me that the only way he could accept his new job in Waltham and be with his family in Cape May was to find an alternative travel option. With Linear Air's air taxi service, he has been leaving work early Friday afternoons and driving about 15 minutes to Hanscom Field. He valets his car at the executive terminal and hops on his Eclipse 500 jet aircraft.
Paul is treated to his usual favorite selection of refreshments on board, and plugs in his iPad to catch up on some reading. In just over an hour, he lands at Cape May and greets his driver after deboarding. The car comfortably transports him to his residence, conveniently just in time to sit down to dinner with his wife and daughters.
Air taxi is made for unique travel profiles
Linear Air was made to create an easy, simple and direct alternative to car or commercial airline travel. We are thrilled to help Paul and Julie with a better way to manage their work and personal lives in the most efficient way possible. I founded this company with busy executives in mind; not only can air taxi make you more productive, but it also helps you spend more personal time at your summer home and more weekend time with you family.
Economical on-demand air taxi service is the perfect solution not just for these two travelers, but for tens of thousands of others like them around the nation with important travel needs the airline hub model can't meet. With the help of our Linear Connect partners, we are enabling travelers around the United States to use a Cirrus SR-22 air taxi or Eclipse 500 personal jet to solve those travel challenges.
See you onboard.