I've used this space already to discuss plans to expand our on-demand air taxi business nationwide with Linear Connect. The key is to repeat the successful model that began - and continues - with air taxi flights from Hanscom Field in Bedford, Massachusetts.
Direct flights from greater Boston and surrounding areas

When we launched Linear Air's service nearly nine years ago, we chose to serve the Boston travel market from Hanscom Field (BED). This airport in Bedford, MA is fewer than 10 miles from Boston, and is even closer to the suburbs such as Cambridge, Newton, Wellesley, and Weston. As a resident of Lexington, MA, I've personally suffered through the painful commute to Boston's Logan Airport (BOS) way too many times. That's why we emphasize to our customers – many of whom work and/or live in the prosperous and vibrant suburbs west of Boston - that air taxi flights from Hanscom both save time and reduce hassle.
It helps that many successful financial and technology companies are headquarted nearby Bedford in cities like Waltham, Burlington, Lexington and Concord. Hanscom is also convenient for those visiting well-known academic institutions such as Harvard, MIT, Tufts, Brandeis, Wellesley, Boston University and Boston College. We've flown parents visiting their kids at school as well as professors looking to fly to their next speaking engagement.
Hanscom Field is more than just Bedford's airport
Not only is Hanscom a lot quicker drive compared to Logan, but once our customers get to the executive terminals at BED, they can be in the air in under 10 minutes. That's because you don't waste time in sluggish security lines or byzantine boarding procedures that require you to arrive at Logan (or any other airline airport) 90 minutes before your scheduled departure. Compared with notoriously delay-prone Logan, Hanscom is calm oasis for travelers.
Although much less vulnerable to delays, Hanscom Field is still a busy Bedford airport. We actually share it with the military, as we run our operations from a hangar located within Hanscom Air Force Base (HAFB). We oversee maintenance, perform training (even for the FAA) and dispatch our pilots from that location. Although it no longer has an active air wing, HAFB is the location for research centers such as MIT's Lincoln Laboratory and the Air Force's Electronic Systems Command. Additionally, Hanscom's aircraft hangars are home to a number of local flight schools, medevac and aviation service companies.
Our primary office locations have relocated since the company's founding, but have never been far from Hanscom Field. In addition to our operations office, our sales and marketing team works at the Bedford airport on the civil side, inside a building called the Civil Air Terminal. Located right next to the executive terminals at BED, we're right next to where our Boston passengers drive to and depart from. Our office locations also make it easy for prospective clients to meet our team and be introduced to our aircraft.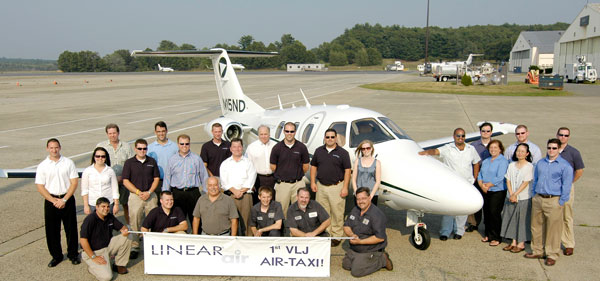 The Linear Air team welcomes our first Eclipse 500 jet at Hanscom Field in 2007
We see flights from Hanscom Field as a model for zero hassle travel that provides convenient access to other busy metropolitan areas. Most of our fliers prefer using well-developed general aviation airports like BED that are located near their home, office, meeting site or vacation destination. As we expand our Linear Connect network to new regions, we will be partnering with companies based at local, crowd-free airports like Hanscom Field. Executive airports provide the opportunity to simplify our travel operations and more easily enter new markets. But more importantly, they offer our customers the best combination of safety, location, and travel ease.
See you onboard.