I enjoy the runway view at airports -- watching large airliners line up on the runway, fire up their turbofan jet engines, and elegantly soar into the sky. Despite working in aviation, I still find myself in awe of the system that safely coordinates millions of takeoffs and landings each day around the world. However, as many travelers have unfortunately experienced, airline schedules aren't always as reliable as one might expect.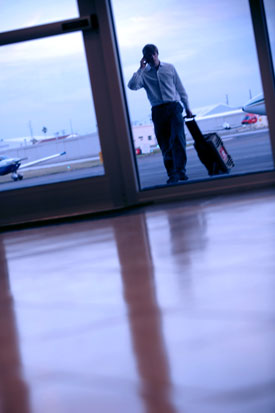 Although the majority of airline flights depart and arrive on-schedule, many others are late (over 20%!), delayed prior to takeoff, or cancelled altogether. This happens more often at some airports than others, but it hits the New York airports especially hard. For example, a recent Wall Street Journal article revealed that Newark Liberty International (EWR) had the most chronically delayed flights. One flight in particular was unbearable enough to earn a feature as "The Worst Flight in America", after sadly ending up on the Transportation Department's "chronically late" list 12 months out of the past 24. CNN didn't disagree, also naming EWR the #1 worst US airport for delays. Ouch.
Apart from the dreaded Newark Liberty, there are thankfully other airports for travelers coming from (or traveling to) New York City. La Guardia Airport (LGA) provides convenient New York City access given its close proximity to Queens. John F. Kennedy International (JFK) is another popular airport in the New York Area that is usually preferable for airline travelers that need to get to Long Island. But sadly, these often aren't much more convenient or reliable for travelers. Both airports frequently show up on the "most delayed" list, and create unexpected hassles for many travelers.
Teterboro Airport is a hidden gem for NYC travelers
A hidden gem located just outside New York City is Teterboro Airport (TEB), which happens to be a convenient and substantially more reliable airport option for New York travelers. Despite being located in New Jersey, it's very close to NYC -- like La Guardia, Teterboro Airport is usually about a 20 minute drive into mid-town Manhattan. But, unlike all the others, you won't see angry social media posts about travelers stranded in Teterboro, NJ or find Teterboro Airport on a frequently delayed list.
Commercial airlines build their flight schedule very tightly, allowing them to be highly efficient and maximize revenue. However, this also means that there's little buffer time in case weather, maintenance, or something else unexpected occurs. When delays occur on one flight, there's a domino effect that delays future flights too. A backlog of airline delays means a 7AM thundershower is likley to delay your 2PM departure from JFK, EWR or LGA, giving rise to the now chronic heartache of airline flying.
One reason Teterboro isn't subject to the delay domino effect because it's primarily a "general aviation" airport -- we often call these "executive airports" due to their audience and convenience. This means that commercial airlines don't use TEB. According to airport database AirNav, commercial operations comprise less than 1% of Teterboro's traffic. Without airline backlogs and huge schedule delays, a traveler's risk is reduced to near zero, hassles are avoided, and flights can be performed reliably and on-schedule.
Teterboro is the preferred NYC airport for air taxi flights
Flying from Teterboro Airport: free from airline backlogs and huge schedule delays, a traveler's risk is reduced to zero, hassles are avoided, and flights can be performed reliably and on-schedule.
A late flight means that a sales executive won't show up for his/her meeting, or a leisure traveler will lose precious vacation time from their personal getaway. Similar to how a traveler might pass over a creeping city bus in favor of a cab if timeliness is paramount, Linear Air's air taxi service is a far more reliable option than the airlines.
Our travel coordinators use Teterboro in the NYC area to assure that fliers are kept free of commercial airline delays, and personally track weather and schedules to assure that passengers depart and arrive on the schedule that they've booked. Try asking for that guarantee from your "favorite" commercial airline carrier.
For important meetings, or just a much-needed vacation, air taxi flights from Teterboro present a much higher standard of reliability to the New York flier. Plus, flying to and from Teterboro via air taxi is not only convenient and efficient, it's actually quite fun.
Case in point: I was lucky enough to fly to TEB last fall on our Eclipse jet. Not only was it comfortable and fun, the trip was so quick that I was driving in to Manhattan before my coffee even had a chance to cool. I can't even get through airport security that quickly when I'm flying the airlines! Not that they'd let me keep my coffee anyway, of course...
Guest feature by Devon Freitas, aviation enthusiast, avid marketer & IT guru at Linear Air