If you're an experienced traveler, you have undoubtedly experienced the culinary delights of specific cities or regions - like, say, Baltimore's crab cakes, San Antonio's burritos, New Orleans' Jambalaya, the Carolinas' sweet pork barbecue, Philadelphia's cheese steaks, or the summer succulence of Maine lobster.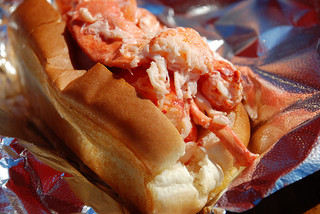 If so, you've no doubt also been faced with the wistful frustration of craving these signature regional dishes, but having no way to enjoy them when your mouth starts watering. Oh sure, you may be able to find a local joint that serves up a copy of that delicacy, but it rarely competes with the real thing.
Similarly, if you're a frequent business traveler you may have had the good fortune to experience the comfort and time savings of flying on a private plane, such as our Eclipse 500 jet or Cirrus SR-22 air taxi. You know once you've flown privately, it's hard to go back to flying the airlines. And when you do, it is frustratingly far from the simple, hassle-free experience that travel in non-airline aircraft can provide.
Air taxi: private flight without extravagance
This problem is essentially what our company was designed to solve. We make high-value private travel far more accessible to our customers. We are bringing the expense down from the stratosphere, and expanding our coverage to every region in the nation. Our mission is to allow you to enjoy the satisfying and efficient air travel experience that you crave, when and where you want it. (But when it comes to finding authentic Tex-Mex in New England, or real Cajun cooking in Denver, you're still on your own...)
For almost nine years, Linear Air has been providing private air taxi service in New England and New York. With efficient Eclipse 500 jets, we've offered private travel at relatively affordable rates. But last year, we realized than many customers were requesting routes that are really too short for even our low-cost Eclipse jets to serve economically. We decided to address this problem using Linear Connect, which enables operating partners to access our unique, state-of-the art flight operations and booking technology. We launched this service and expanded our fleet through a partnership with Hopscotch Air, a New York based operator of the Cirrus SR-22 air taxi aircraft.
The Cirrus SR-22 aircraft is unbeatable for short flights
The Cirrus plane offers our preferred air taxi value by providing economical service on shorter routes, especially for 60-90 minute flights (under 300 miles). Despite being the most efficient jet ever, even our Eclipse 500 can't match the value of the Cirrus on such short flights. The SR-22 is the perfect solution for the business person who prefers to avoid the heavy car traffic of congested New York City, or the vacationer that wants to get from Long Island to Nantucket where no remotely direct driving route even exists. And many can relate to the annoyance of finding airline tickets for short trips to remote areas, which can often be totally impractical or just simply unavailable.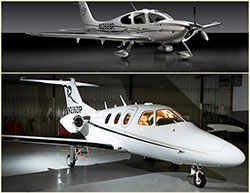 But just like any aircraft, not all flight routes are optimally suited for the Cirrus SR-22. One of the reasons that a partnership between Hopscotch's Cirrus service and Linear Air's Eclipse fleet was compelling on both sides is that the two aircraft have complementary ideal trip profiles. While both aircraft are great for flights of one to two hours, a shorter flight is usually most economical in the Cirrus, whereas passengers with longer flights often prefer the comfort and speed of the Eclipse jet. By offering both planes to our customers, we provide the convenience of choice while delivering the industry-leading service that our customers expect from our brand.
In addition to lacking the jet option for longer flights, customers of Hopscotch were without their Cirrus air taxi service if they strayed too far from Hopscotch's New York base. Similarly, we found the same was true for our Eclipse jet fliers, who often desire short-hop transport when traveling in the Southeast, West Coast or Mid-Atlantic. As a company designed around solving travel problems for people, Linear Air decided to expand its service area in order to offer even more to our customers.
Linear Connect - nationwide service with Eclipse jets and Cirrus air taxis
Technological innovation allows inventors to create new solutions to age-old problems. The issue of inaccessible, inconvenient travel options has only worsened with the reduction of regional airline service in many markets. This is exactly why we created a New England/New York service with new, high-tech aircraft. The next challenge was to make our service available in more regions, so Linear Connect was invented to enable nationwide operations. The Eclipse 500 jet was the first aircraft we took nationwide; we've now taken the next step by initiating the expansion of Cirrus SR-22 air taxi partnerships across the United States.
Soon, you'll be able to book Cirrus air taxi flights all around the nation via Linear Connect partners. Short-hop travel via both the Eclipse and Cirrus will be accessible in areas such as Atlanta, Texas and California. We'll even be able to fly people to and from those airports in Canada, Mexico and the Caribbean where trans-border operations are permitted.
But Linear Connect doesn't just mean service in areas that we didn't previously service – it also means that we'll have a larger fleet in New York, New England, and the Mid-Atlantic regions. This means we have more options to help you during busy travel seasons, and aircraft based closer to where you work, live, or vacation. The combined effect means more planes, in more places, at lower cost then ever before.
Transforming Cirrus SR-22 charter planes into Cirrus air taxis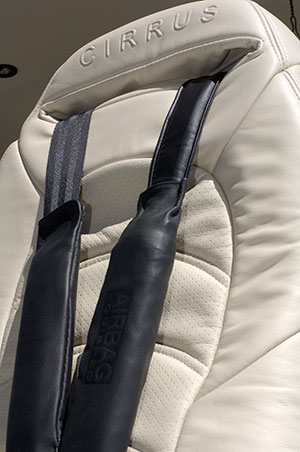 Beyond our current operating partners, there are more than 50 Cirrus SR-22 operators around the nation, many of whom we expect to join the Linear Connect program in the near future. Many of these prospective partners operate with just a single aircraft. This presents challenges; how is a single-Cirrus operator going to market their service and satisfy their customers at a high level, all while keeping on top of all of the other supervisory, safety and legal demands of the business? Enter Linear Connect, a partnership opportunity that makes all of those needs a lot easier to meet.
The biggest benefit actually accrues to the Linear Air customer. Linear Connect's technological innovations help us stay true to our promise of delivering superior customer service. It also makes more flight options easily available to you, which saves you both time and money. And most importantly, we assist our partners with the best practices developed across our network, so passengers can always count on the quality of a Linear Air flight.
We are working to give our customers the travel options that they've been craving – dependable, affordable air taxi service wherever they go. While we can't satisfy your craving for an authentic bowl of Gumbo in Boston (I still haven't found it), we'd love to fly you to a place than can. It's always customer-first at Linear Air, so we'll keep growing to better meet the challenging itineraries of those who we fly.
See you onboard.