Like many business people - especially those who travel a lot - I'm quick to adopt new technologies that will make my life better. So I have to admit that, even though I'm in the business of bringing people together physically, I like Skype.
Skyping for fun, but not profit?
I use Skype for meetings with work colleagues and for visiting with friends. When I'm away from home at night, I Skype my family because it gives me more of a feel of actually being with them than I can get over the phone.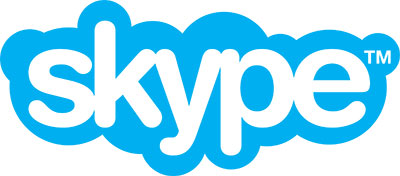 Skype is a great tool, but it doesn't replace face-to-face interaction

Still, if I have something really important to say to my wife, particularly if it's sensitive, I guarantee you that she would much rather hear it from me face-to-face. The same is true with my work associates, my children, and even with my friends. There's just something deeply powerful about dealing face-to-face with people on important topics that you can't replicate with Skype, or with any other technology.
That's why business people need to travel. Intuitively we have known all along that if you're going to do important business with people, you need to meet them in person, shake their hands, look them in the eyes, and establish personal rapport.
Data shows: more travel, more sales
Now there's empirical data supporting that intuition. A study done for the Global Business Travel Association by IHS Global Insight looked into what the impact of increased business travel would be on 15 distinct industries. Among the more telling results:
There is a significant and measurable relationship between increasing business travel and increasing sales volume.

Increasing business travel drives sizeable returns on investment – on average, profits in the 15 industries studied would rise by $15 for every additional $1 spent on business travel.

Increasing business travel significantly stimulates the U.S. economy – boosting business travel to "optimal" levels would create 5.1 million new jobs in the U.S. and generate more than $101 billion in new tax revenue for governments.
I promise this wasn't just a boosterish study performed to benefit the travel industry (read the full report: Can We Afford Not To Invest In Business Travel?). It does show that there is a point at which increasing business travel spending no longer increases profits, but cuts into them instead.
So the real questions for a company are "Where are we on the business travel spending curve? Are we spending enough, or are we spending more than necessary to achieve the best results?"
Two Presidents agree
At the Global Business Travel Association Annual Meeting in Boston last June, even two former U.S. presidents made the case that we are indeed moving back up the business travel spending curve. Both George W. Bush and Bill Clinton argued that it's time for businesses to increase travel to maximize their revenue potential in the current economic environment.
Better technology yields a better experience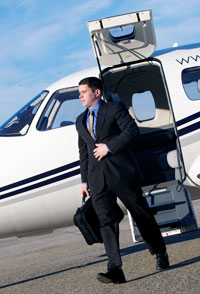 All this is why I want to suggest that, for many U.S. business travelers, my company offers the best blend of cost-effectiveness and efficiency. Rather than requiring you to drive a long way to a major airport and submit yourself to the indignities, delays, wasted time and frustrations of airline travel, Linear Air offers an on-demand air taxi service that can shave 40%-70% off your roundtrip, door-to-door travel time. And in most cases we can do it at an afordable price.
You're picked up at the uncongested airport nearest you. You're flown to the uncongested airport nearest your destination. It's done on YOUR schedule, not ours. And it's done in comfortable, efficient and safe air taxi aircraft. Along the way, you'll be provided warm, friendly and personal service by highly-trained pilots and agents. By getting you to your destination - and back home – quickly, you can avoid the cost of hotel rooms and extra meals on the road. You get maximum productivity out of your day, AND maximum time at home. Plus, you travel with a very high degree of comfort and security.
So I hope that the next time you or one of your team members needs to travel to make an important sales call, or to tend to a key commercial relationship, that you'll see the wisdom in using Linear Air. We think we can help you get the best possible financial results from your business travel spending.
See you on board.