We were right.

That's the message I took from the recent announcement by a company that competed – at least in theory – with my company, Linear Air. JetSuite is a private aviation company based at John Wayne Airport in affluent Orange County, California. It launched service about four years ago, flying four-passenger Embraer Phenom 100 jets in what it called, at the time, an air taxi service.
Eight-year-old Linear Air, based at Hanscom Field, in Bedford, Mass., outside Boston, and Westchester County Airport outside NYC, is an air taxi company too. And we have affiliates operating in the Southern California market and elsewhere throughout the country. But we operate a fleet of four-passenger Eclipse Very Light Jets, and Cirrus SR22 Technically Advanced props, not Phenoms. And that's why Linear Air continues to operate as an air taxi while JetSuite is moving further into something closer to a conventional jet charter company.
In 2008 JetSuite placed a start-up order for 50 Phenoms, with an option to acquire another 50 beyond that. But now, with only 15 Phenoms in service, JetSuite is changing gears and taking on the higher capacity, longer range - and commensurately more expensive – Cessna Citation CJ3. The first of 15 CJ3s ordered recently entered service, and the company now has 3 flying.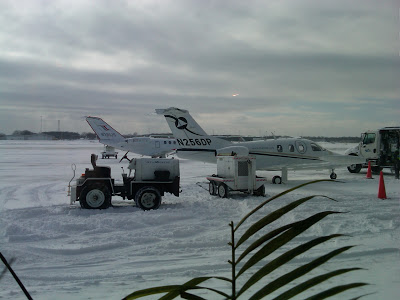 JetSuite CJ3 behind a Linear Air Eclipse 500 at snowy South Bend, Indiana last week
Now, the CJ3 appears to be an excellent airplane. But at 7 seats, and with a range of 2,000 miles (nearly twice the Phenom 100's range) it is a substantially larger, longer-legged, and more expensive airplane. As a pilot myself, I'd love to fly one. But as the CEO of an air taxi company I'll stick with our Eclipse jets, thank you very much.
Why? Because the smaller, shorter-ranged Eclipse is much cheaper both to own and operate, yet is every bit as safe, fast and comfortable. That makes it an ideal plane for an air taxi operation like Linear Air's.
Lower ownership and operating costs are key to our ability to offer air taxi service from the airport nearest your home or office to the airport nearest your actual destination for prices competitive with what business travelers would pay for the same trip via a commercial airline. Because we bypass the congested, hassle-filled, time-wasting hub airports through which the big airlines funnel all their passengers, Linear Air can cut your door-to-door travel time by half (or more) in most cases, increase your efficiency, and improve your life. We can reduce or eliminate the need for rental cars, hotel stays, and extra restaurant meals.
We can fly you further if you wish, but the sweet spot of our operation is 300 to 500 miles - and especially on routes to, from or between smaller cities that the big airlines don't serve well, much or at all. So, if you want to fly to, say, Syracuse, N.Y. or Charleston, W.Va., from NYC for a three hour meeting beginning at 1 pm, we can pick you up at 11 am at Teterboro Airport just across the Hudson in NJ, and get you home for dinner. Alternatively, you could waste hours of your valuable time driving to and from that meeting, or you could go by commercial airline and spend at least one night (maybe two) in a hotel, incur additional food and beverage costs, and add a bushel-full of stress to your life. We think Linear Air beats both of those options, thanks largely to our Eclipse jets and Cirrus SR22s.
As my respected colleagues at JetSuite discovered, the Phenom 100, though an excellent airplane from a technical perspective, is simply too expensive to own and operate if you're trying to compete effectively in the air taxi market as I've just described it. To make money flying the Phenom they need to charge thousands of dollars per passenger, not hundreds. And they need to fly longer routes, where their costs can be spread out over more time and miles, but also where the advantages of private travel over commercial airline travel are less pronounced. Yet the Phenom is not as large or luxurious as the Lear, Cessna Citation, Hawker, Mooney, Falcon and Gulfstream jets more typically associated with private jet charter flying on such longer routes.
Thus, JetSuite's leaders apparently have made the decision to begin move further into the private jet charter business that caters to America's wealthy elite, and away from the democratization of private flying represented by air-taxi.
Their decision confirms that our choice to fly the Eclipse and Cirrus was the right one. It allows us to keep our costs down and to charge prices that are within the reach of average business people who have a real need for private air service but who can't afford – or are put off by – the extravagant prices charged by jet charter operators.
So, while another serious competitor is moving away from the air taxi business, Linear Air remains focused on serving the average business traveler. Our target market is the top quarter of the 90% of domestic air travelers who desire, or who would appreciate the financial and personal benefits of traveling on a private jet, but who can't or won't spend more than what they would spend on a trip using commercial airlines. That's why we think we've got the right business model for us, and the right service for you.
See you onboard.