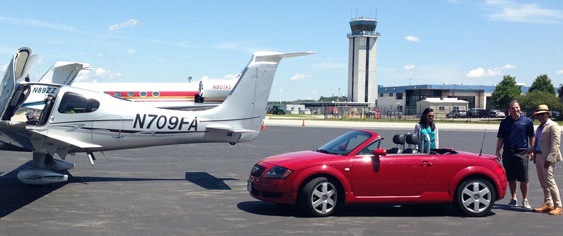 7 Secrets of Extremely Low Air Taxi Fares
Do you need to travel somewhere that is too far to drive, but too short (or awkward) to fly commercially?  Think of a route that should only be one to two hours by plane but will take all day because a connecting flight is required.  Or think of a drive to a vacation home, college campus, or business meeting that will take 4-6 hours by car and may involve a lot of traffic, parking, and navigation headaches.
These are perfect trips for an Air Taxi!  And here's how you can get the best deal when you book one.
1. Travel from a base of operation.
When you book an Air Taxi, you pay the least amount of money by starting or finishing your trip at an airport where the plane is based.  On the East Coast, these airports are:
Boston — Hansom Field, Bedford (BED) or Worcester Regional (ORH)
New York — Westchester County Airport, White Plains (HPN)
Long Island — Republic Airport, Farmingdale (FRG)
Philadelphia — Wings Field, Blue Bell (LOM)
Washington DC — Montgomery Airpark, Gaithersburg (GAI)
Northern Virginia — Manassas Regional Airport, Manassas (HEF)
Sarasota — Sarasota-Bradenton International, Sarasota (SRQ)
West Palm Beach — Palm Beach International, West Palm Beach (PBI)
And on the West Coast they are:
San Diego — Montgomery Field (MYF)
Los Angeles — Van Nuys Airport (VNY)
San Francisco — San Carlos Airport (SQL)
Silicon Valley — San Martin (E16)
While it's still worth checking out pricing if you're flying from these general regions, cities, or states (for instance from New Jersey versus New York), the lowest possible prices will come from flying specifically from or to the above airports.
2. Use regional airports rather than major hubs.
No matter where you fly to or from, use a "regional" or "executive" airport instead of a major hub.  For instance, if you live in the Baltimore area and find Montgomery Airpark too far away, consider flying from Martin State Airport rather than BWI.  If you're traveling to Miami, use Opa Locka Executive instead of Miami International.  Any time you use a regional airport instead of a hub airport, the fees are so much lower that you'll save hundreds of dollars on your trip.
Linear Air's online quoting and booking technology will present you with the lowest priced regional airport options for a given trip when you price your flight online.  Our Customer Service team at customerservice@linearair.com can assist with this as well.
3. Make it a same day round trip.
If you're not needing an extended stay at your destination, then consider flying there in the morning and back in the evening instead of spending the night.  Doing so, will mean the Air Taxi can stay with you rather than returning to base and incurring more flight costs.
4. Bring another passenger (or 2).
Since your Air Taxi seats 2-3 passengers (subject to passenger and luggage weight), filling those seats will get you a better price per person than flying solo.  Take advantage of the fact that you are booking the whole plane and not just a seat and bring a friend or colleague…  We can bill two separate credit cards for your trip if you'd like to split your costs.
Your additional passenger can also be a pet!  Flying Air Taxi is a great way to safely transport your well-behaved dogs or cats.
5. Have us radio ahead for a yellow cab instead of booking a car.
While you're welcome to book ground transportation such that it's waiting on arrival for you at your destination, car companies do charge wait times.  And if you land later than you booked your car, you could incur more costs than you planned.  To avoid this, let your Air Taxi pilot know before you take off that you'll need a cab when you land.  He or she can radio ahead to the airport 15 minutes before landing, when you know more precisely when you'll be touching down, and have a cab waiting for you at that time.
6. Buy a package of trips for discounted fares.
Linear Air offers a "Travel Rewards" program.  By putting $7,500 or more on account with us you will receive 5-10% off your flight costs.  This can add up to thousands of dollars of savings even on just a single Travel Rewards package.  If you have a vacation home, a route you travel frequently, or just lots of regular travel coming up, then it's certainly worth considering.  For more details on that, contact sales@linearair.com
7. Keep an eye out for the specials.
Linear Air occasionally has promotional offers, special low fares, and empty legs available.  Be sure to sign up for our mailing list so that you're notified of any special deal that can save you money on your next Air Taxi trip!